said the original George W.
On August 18, 1790, the orig­i­nal George W. penned eight con­se­quen­tial words that don't receive suf­fi­cient rep­e­ti­tion. The words were not orig­i­nal­ly his. He mir­rored the text of a let­ter deliv­ered to him ear­li­er that day in New­port, Rhode Island by Moses Seixas that described the new Unit­ed States Gov­ern­ment as one that is:
gen­er­ous­ly afford­ing to All lib­er­ty of con­science, and immu­ni­ties of Cit­i­zen­ship: deem­ing every one, of what­ev­er Nation, tongue, or lan­guage, equal parts of the great gov­ern­men­tal Machine
How­ev­er, the most famous phrase and the por­tion that Wash­ing­ton repeat­ed described the Gov­ern­ment of the Unit­ed States, which gives:
to big­otry no sanc­tion, to per­se­cu­tion no assis­tance

You can see the full orig­i­nal let­ter here.
Amaz­ing­ly enough, as of Decem­ber 2010, the where­abouts of this essen­tial doc­u­ment, guar­an­tee­ing tol­er­ance in Amer­i­ca, was unknown! The For­ward tracked down its loca­tion and wrote about in an arti­cle by Paul Berg­er in June of 2011.
---
In March of 2017 at the annu­al con­ven­tion of the Cen­tral Con­fer­ence of Amer­i­can Rab­bis in Atlanta, GA I saw a col­league wear­ing a but­ton with this famous text. I tracked it down and recent­ly pur­chased one for myself. I wear it reg­u­lar­ly. I've since bought more to give to oth­ers who appre­ci­ate it.
The but­ton has an inter­est­ing back­sto­ry. I con­tact­ed the rab­bi who wore the but­ton at the con­ven­tion. She told me that her can­to­r­i­al soloist had giv­en her the but­ton and that it had been pur­chased on Zazzle.com. Search­ing for the phrase I was able to find the but­ton there and bought one for myself. There I learned that the but­ton was made by a woman named Eri­ca Schultz Yakovetz. I tracked her down on Zaz­zle and asked her about the but­ton. She offered the fol­low­ing expla­na­tion. (Note, we didn't get anyone's per­mis­sion to ref­er­ence them by name, how­ev­er, all the posts are pub­lic, so we expect it's fair game.)
Back on Novem­ber 13, 2016, short­ly after that mis­er­able Elec­tion Day, my friend Andrew Greene in Boston post­ed to Face­book that he would like to see a but­ton made of this quote. [Since post­ing this I have learned from my rab­bi friend's can­to­r­i­al soloist that Andrew Greene is a for­mer "Zamirnik". One of the ways he pub­li­cized his friend's quest to send a pin to every mem­ber of Con­gress was via email to Zamir's "tut­ti" mall list. So the Zamir Chorale and their net­work played a part in help­ing with the suc­cess of the orig­i­nal Kick­starter cam­paign and order­ing pins.]

As a graph­ic design­er, a com­mit­ted Jew, and an avowed lib­er­al hip­pie, I was hap­py to take up the chal­lenge.

The ini­tial request was just for "To Big­otry No Sanc­tion", but a mutu­al friend from MIT (Richard Bar­balace) point­ed out that with­out more con­text, a mod­ern read­er might think it was call­ing for no sanc­tions AGAINST big­otry rather than no sanc­tion FOR big­otry. Thus I revised the design to include the sec­ond part of the phrase, "To Per­se­cu­tion No Assis­tance," and that's the ver­sion that has moved for­ward.

Short­ly there­after, anoth­er friend of Andrew's, Yos­si (Joe) Fend­el of Berke­ley, CA, decid­ed that every incom­ing mem­ber of Con­gress and the Sen­ate need­ed one of these pins sent to them in time for the ses­sion open­ing on Jan­u­ary 3, 2017, and set up a Kick­starter to do so

Eighty-two (82) back­ers pledged $1,608 to help bring the project to life. [$1,500 was need­ed for the Kick­starter cam­paign.

(I placed a bulk order for him for those, of course, so he didn't end up order­ing 500+ through Zaz­zle.)

The type­face I chose is a font called Trat­tatel­lo by James Grieshaber (now pro­vid­ed by Apple as a sys­tem font). The back­ground image is, of course, the US Con­sti­tu­tion.
I rarely make rec­om­men­da­tions for items I do not pro­duce myself. How­ev­er, since I have been pur­chas­ing and gift­ing copies of this but­ton to peo­ple I encounter, and they have been giv­en to each mem­ber of con­gress, I encour­age you to buy some for your­self to offer as gifts in this big­ot­ed and per­se­cu­tion-filled time.
The best way to pur­chase mul­ti­ple copies is direct­ly from Eri­ca Schultz Yakovetz at her Etsy site.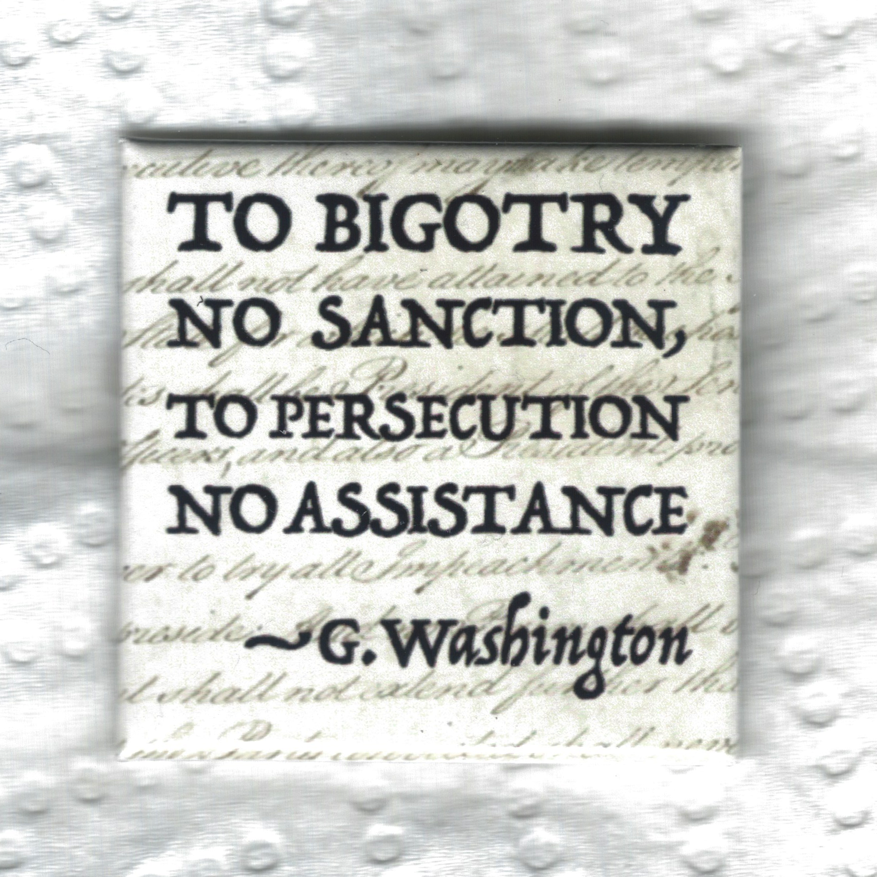 Date
Novem­ber 14, 2017
Size
2″ square
Pin Form
clasp
Print Method
cel­lu­loid
Text

TO

BIGOTRY




NO

SANCTION

,


TO

PERSECUTION




NO

ASSISTANCE


~G. Wash­ing­ton
from "Commander in Chief" to "Bigot in Chief"
Recent com­ments by the cur­rent pres­i­dent have caused numer­ous main­stream press out­lets from around the coun­try to call out his behav­ior.
Houston Chronicle eEdition; July 16, 2019
The Los Angeles Times Editorial Board; July 14, 2019
Minneapolis, Minnesota Star Tribune; July 15, 2019
The Syracuse,
NY

Post-Standard; July 15, 2019
The Washington Post; July 15 2019
The Day of New London, Connecticut; July 15. 2019
The Daily News of Bangor, Maine; July 16, 2019
The Charlotte (North Carolina) Observer; July 16, 2019
And it con­tin­ues. More recent­ly, the for­mer Con­gress­man Joe Walsh has a piece in The New York Times (August 14), mak­ing the case for a GOP chal­lenger to Trump. It's part con­fes­sion­al and part indict­ment.
In Mr. Trump, I see the worst and ugli­est iter­a­tion of views I expressed for the bet­ter part of a decade. To be sure, I've had my share of con­tro­ver­sy. On more than one occa­sion, I ques­tioned Mr. Obama's truth­ful­ness about his reli­gion. At times, I expressed hate for my polit­i­cal oppo­nents. We now see where this can lead. There's no place in our pol­i­tics for per­son­al attacks like that, and I regret mak­ing them….

The fact is, Mr. Trump is a racial arson­ist who encour­ages big­otry and xeno­pho­bia to rouse his base and advance his elec­toral prospects. In this, he inspires imi­ta­tors.
Remember, only you can prevent (metaphorical) forest fires, and each of us can proclaim (even on our lapels), as the first Commander in Chief wrote:
…to big­otry no sanc­tion, to per­se­cu­tion no assis­tance
your lapel buttons
Many peo­ple have lapel but­tons. They may be attached to a favorite hat or jack­et you no longer wear or poked into a cork-board on your wall. If you have any lay­ing around that you do not feel emo­tion­al­ly attached to, please let me know. I pre­serve these for the Jew­ish peo­ple.
I have arranged for the col­lec­tion to be acquired by an appro­pri­ate muse­um (more about this lat­er).