I col­lect (Amer­i­can) Juda­ic lapel but­tons.
I have approx­i­mate­ly 3000 unique items. Each one rep­re­sents a dif­fer­ent moment in the Amer­i­can Jew­ish expe­ri­ence.
Peri­od­i­cal­ly I share them here.
As the "Che fran­chise" con­tin­ues to grow, few oth­er cul­ture heroes (meant metaphor­i­cal­ly) seem able to com­pete for pub­lic atten­tion. Back in the late '60s and ear­ly '70s it was not uncom­mon, how­ev­er, to see posters of a wide vari­ety of cul­tur­al icons on stu­dent walls, both polit­i­cal lead­ers, enter­tain­ment fig­ures and even intel­lec­tu­al giants. We even saw peo­ple wear­ing but­tons with some of the same images on their lapels. Or maybe I sim­ply don't get around much any more.
One fig­ure whose image rose high at the begin­ning of the cen­tu­ry in Jew­ish cir­cles became quite an icon. (From Die Buch­er Der Bibel, illus­trat­ed by E. M. Lil­lien.)
Now, he is almost a fig­ure of deri­sion. (Seen spray-paint­ed on the wall of an apart­ment build­ing on Ibn Gabirol Street in Tel Aviv in March of 2009; the text reads: "on the oth­er hand, if you don't will it, no big thing…")
Nonethe­less, today, the 10th of Iyyar (י אייר) on his birth­day, I hon­or Theodor Her­zl the inven­tor of Polit­i­cal Zion­ism.
It is hard to imag­ine that some­time as ear­ly as the 1920s some­one would have walked the streets of Amer­i­ca wear­ing this but­ton.
---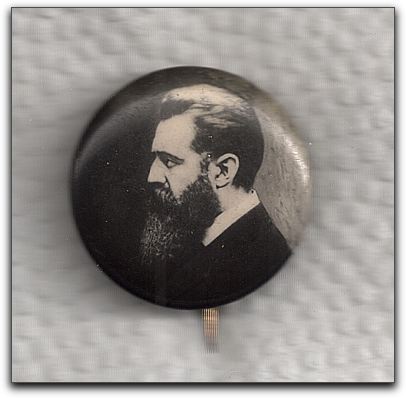 | | |
| --- | --- |
| Date: | 1920s? |
| Size: | 1.3 |
| Pin Form: | straight |
| Print Method: | cel­lu­loid |
| Text | [none] |