On 23 Feb­ru­ary, 2009, in hon­or of Rosh Ḥodesh Adar 5769: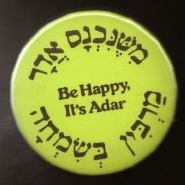 The Hebrew text around the edge says: MiShenich­nas Adar Mar­bim BeS­im­cha
(When Adar Comes, Joy Is Increased)
משניכנס אדר מרבין בשימחה
Why should joy increase when the month of Adar begins? Because this is the true end of win­ter which was her­ald­ed by Tu b'Sh­vat two weeks ago. From here on (at least in the Land of Israel), no more frosts, no more frozen ground is expect­ed. Spring and its hol­i­days are around the cor­ner. Now, when the ground will no longer freeze, it is safe to fill pot­holes. In two weeks we'll cel­e­brate the Jew­ish peo­ple's ver­sion of Mar­di Gras: Purim. Indeed the land and our smiles come out of the cold and warm into smiles.
Date:
1970s?
Size:
6.0 cm
Pin Form:
safe­ty
Print Method:
cel­lu­loid
---
---
Orig­i­nal­ly Post­ed 23 Feb­ru­ary, 2009 (Rosh Ḥos­desh Adar, 5769)